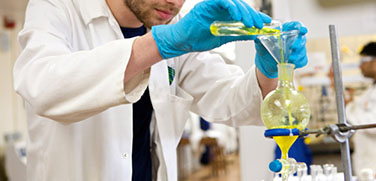 03 Sep

Testing facility as per ASTM D 5338 for Biodegradation in Plastics Material

State-of-the-art facility has been created in Rubber & Plastics Laboratory of Material Science
Division (MSD) for the determination of Biodegradation in Plastics material as per ASTM D
5338 standard which is the Standard Test Method for Determining Aerobic Biodegradation of
Plastic Material under Controlled Composting Conditions, Incorporating Thermophilic
Temperatures which is one of its kind in India. Salient features of this method are:
Determines degree and rate of aerobic biodegradation of plastic materials on exposure
to a controlled-composting environment under laboratory conditions, at thermophilic
temperatures.
Yield reproducible and repeatable test results
Samples are exposed to an inoculums derived from compost from MSW
Aerobic composting takes place in an environment where temperature, aeration and
humidity are closely monitored and controlled
SUMMARY OF TEST METHOD
 Plastic material
Inoculums of composted MSW
Exposer of the sample to controlled aerobic composting condition
Measuring CO2 evolved as a function of time
Assessing the degree of biodegradability
The % Biodegradability is obtained by determining the % C in the sample that is
converted to CO2 during the test.